Koten Kokyusho established
"Koten Kokyusho," the parent institution of Kokugakuin University, was established in 1882. Arisugawa no Miya Takahito Shinnō (Prince Arisugawa), was the first Controller General. The institution was located in Iidamachi, Kojimachi-ku, Tokyo (present-day Iidabashi, Chiyoda-ku, Tokyo). Classes commenced on September 1 and the opening ceremony was held on November 4. This was where our university took its very first steps in public.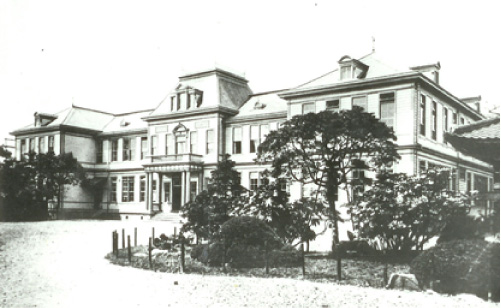 The Iidamachi Campus of Koten Kokyusho (early 20th century)

Arisugawa no Miya Takahito Shinnō (Prince Arisugawa),
Member of the Imperial Family and first Controller General of Koten Kokyusho
1812–1886
Arisugawa no Miya Takahito Shinnō (Prince Arisugawa) was the eighth head of the Arisugawa-no-Miya household, one of the four "shinnoke" cadet branches of the Imperial Household of Japan that were entitled to provide a successor to the imperial throne. He was promoted to the rank of Ippon (the "first order" of imperial princes) as a result of his achievements in his position as Emperor Meiji's calligraphy instructor, and it was he who was tasked with writing out the official copy of the Meiji Charter Oath. He had a deep affinity with Shinto, and soon after the Meiji Restoration (1868) he was appointed as the first Governor General of the Shinto Section (Jingi Jimuka), then in 1881 he was appointed as the Controller General of the Office of Preceptors (kyōdōshoku). In February 1882 he assumed the position of the first Controller General of the Koten Kokyusho with the aim of training personnel to work in the Shinto field and contributing to the research of Japan's classical literature, and he devoted himself to the founding, maintenance, and development of the institution. The Official Notice he issued at the Koten Kokyusho inauguration ceremony on November 4 of the same year provided the basis for Kokugakuin University's founding philosophy. The Official Notice called for acquiring the deep understanding of the essential nature of Japan based on traditional culture through the clarification of Japan's national characteristics as well as the cultivation and nurturing of people's personalities.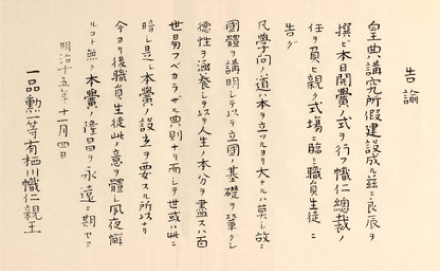 Prince Arisugawa Takahito's Official Notice

Takemichi Koga
Nobleman, marquis, and first vice-president of the Koten Kokyusho
1815–1903
Descended from the Murakami Genji branch of the Imperial Family, the Koga house was a court noble family of the very highest pedigree, ranked below only the five families of the Fujiwara clan (Gosekke), and Takemichi was the 34th head of the household. He held the post of high priest of Kamowake-Ikazuchi Shrine and Kamomioya Shrine. In 1882 he accepted an invitation to become the vice-president of the Koten Kokyusho from the Controller General of the institution, Prince Arisugawa. He devoted himself for a long time to the development of the Koten Kokyusho and Kokugakuin until his death in 1903. Beginning in 1931, sets of documents relating to the Koga house were entrusted to Kokugakuin University on three separate occasions, and in 1951 these were donated to Kokugakuin. In 1988 the majority of these documents (2,461 of them) were designated by the government as "Important Cultural Properties."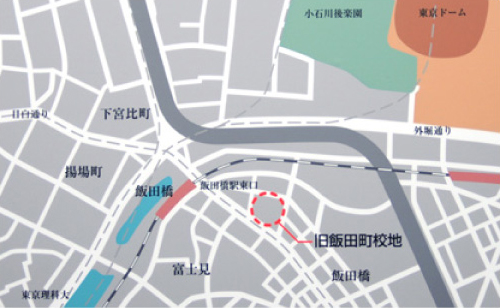 The former site of the Iidamachi campus (location indicated on a contemporary map of the area)